From Ms. Dana Kane's blog: (Please e-mail her, danakanespanks@gmail.com to participate!  It would mean a lot to both of us, but most importantly – to the little guys who didn't ask to be here and who can't help themselves.  Whether you are an animal lover or not, you'll be doing a good deed and getting the chance to win some awesome exclusive implements and video content!)
My friends and many regular blog visitors know that I'm crazy for critters. Like many of you, I share my home with cherished pets and am grateful for everything they add to my life.
In an attempt to help the wider pet population, I'm going to begin holding regular fundraisers here on the blog. We'll always play a game, have a prize, or in some other way make it fun – but the main goal is to help animals in need, and every penny raised will go to worthy rescue, spay/neuter, and emergency medical and housing, across the U.S. and internationally. I'll post publicly the amounts raised and donated, always keeping your individual donations private. If you have a favorite animal charity you'd like to add to the list of recipients, or have any other questions, feel free to email me directly at danakanespanks@gmail.com.
Now…let's roll out Give til it Hurts with:
Implement and Custom Video Raffle #1
Each raffle ticket you purchase entitles you to one chance at the prize. 1 ticket = 1 chance; Five tickets = five chances; 10 tickets = 10 chances; etc.
Raffle Tickets are only $5 each!
You'll be vying for the chance to win a dual prize :
A set of impressive spanking implements donated by our friends at Caneiac,      and a custom video featuring Angel….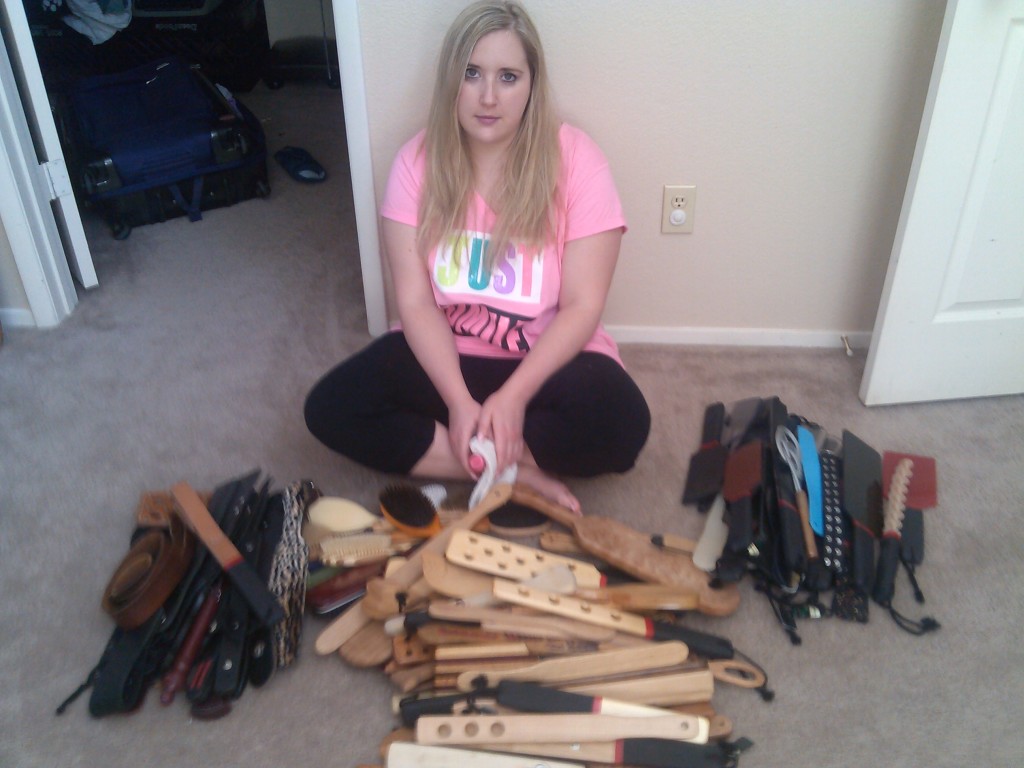 TAKING A SWAT FOR EVERY SINGLE DOLLAR RAISED
…exclusively available only to the winner of this raffle.
After viewing your exclusive spanking, you'll enjoy using this huge collection of Caneiac products on your own favorite bottom (or having them used on yours):
Includes : White Delrin Loop OTK, Black Delrin 3 Strand, Black Delrin Cane SR, Black Delrin Cane JR, Black Delrin Ever Ready, Gatorskin OTK Rubber Paddle.
* To keep things visible and ethical, I'll find some way to videotape the raffle drawing, so that everyone knows that they have an equal chance to win.
** Raffle #1 will end Friday, January 31, 2014.
To buy raffle tickets, simply email me and tell me how many you'd like. I'll send you a Paypal invoice which may be paid with a credit/debit card (no Paypal account necessary).
DanaKaneSpanks@gmail.com
______________________________________________
This should be a whole lot of fun, and it's an excellent way to both help AND play without having to spend a whole bunch of your hard-earned money. 
Naturally, winners will need to be able to receive packages, and will have to provide a physical mailing address in order to receive the implements (video may be delivered either electronically or on DVD).
_______________________________________________
Help spread the word!
Many of you use social networking tools such as Twitter, Facebook, Fetlife, and the like; some of you have blogs or websites of your own –
Please take a minute to crosspost or mention our efforts on behalf of those furry little voiceless critters we all love so much.
My sincerest thanks,
  –  Dana
PS. I am also looking for a 'matcher' for this raffle. The matcher would agree in advance to match whatever funds are raised during this event, and donate that amount to his or her local animal shelter or rescue. Please contact me directly to discuss.
Copyright secured by Digiprove © 2013 Angel Spanked